Private Ltd Company Registration in 7 Days...
Get Free Quote
Instantly
--->
Recognised by DPIIT – Startup India (DIPP47670)

Director Eligibility: Any Individual with minimum age of 21 years is qualified to become the Director of a Company.
Complete Package for Sartup's :- Company Registration Certificate + DIN + DSC + MOA + AOA + PAN & TAN + ESI & PF Registration + GST Registration + MSME Registration + Bank Account Opening + etc…
Get Your Quote
Instantly
..
Private Limited Company Registration
Register Your Business at MCA
Private Limited Company has a status of "Separate Legal Entity" that is distinct and seperate from it's Members. Company can own Property in it's name can sue and be sued in its own name and also enjoys perpetual succession. Director or Member may come and go but Company is Incorporated for a infinite period.
A Private Limited Company is a type of company registered under the laws of Section 2(68) of Companies Act, 2013 and is best suited for entrepreneurs planning for Startup India Registration and looking funding opportunities. It has a separate legal status from its shareholders and directors and so they have limited liabilities for the debts and losses of the company. It holds a separate PAN & TAN in its legal name. It has the words 'Private Limited' at the end of its name. Company Registration Check can be done online at MCA Portal on a real time basis.
We at eTaxFinance will explain in detail how to company registration search and start a Company in India within 7 working days with free business startup India advice..
Minimum Requirements to Register a Private Limited Company
Although it is a very easy task to start and Register a Private Limited Company, but there are basic minimum requirements to do a pvt ltd company registration in india. Few of them are as below:
Benefits of a Private Ltd Company
Private Limited Company is one of the most popular legal entity & which is adopted by the Startups. Below are Quick Benefits about the Private Limited Company:
No personal liability of shareholders for debts and losses of company
The company, as a separate legal entity, does not cease to exist if one or more of its shareholders die.
Personal assets of shareholders are protected since they are not personally liable for debts and losses of company
There are less legal restrictions to run a Company in India
Registration Process | How to Register a Company Online?
The Ministry of Corporate Affairs (MCA), under the Companies Act 2013 has made the new company registration process very simple and efficient. You can get your company registered within few days online. Below are the Steps Involved in pvt ltd company registration online:
Documents Required to Register a Company
Private Limited Registration is an Online Procedure and requires some key documents. We have divided it into two parts as below:
Part 1: Basic Documents for the Directors and Shareholders:
Passport Size Photograph – 2 (Scanned)
Self Attested Copy of PAN Card
Proof of Identity (Passport / Aadhar / Driving License / Voter ID)
Proof of Residence (Recent Bank Statement / Electric Bill / Telephone Bill)

Important Points:

The Documents Scanned must be clear and self attested.
The address proof shall be not older than 30 days (In case of Telephone bill, Bank statement, Electric & Mobile bill)

A Unique Email Id & Mobile Number is required for each director to make Digital Signature Certificate.
Part 2: Proof of Registered Address of Company:
If Property is Owned by the Director.

Sale Deed of Property
NOC from the Owner of the Property (We will provide you copy of NOC)

If Property is taken on Rent or Lease

Rent Agreement / Lease Deed
Rent Payment Receipt for last 2 months.
NOC from the Owner of the Property (We will provide you copy of NOC)

Note: Furthermore, in addition to the above documents we also need a copy of Electricity Bill / Telephone Bill / Gas Bill + Property Tax Receipt / Postpaid Mobile Bill + Property Tax Receipt.
Important Points related to Rent Agreement/ Lease Deed:

If you are showing your registered office address on your Rented property, Rent Agreement must be in one of the director's/Partner's name.
Rent Agreement in the name of proposed/yet to be registered company is not allowed.
Total Cost for Company Registration
"We Deliver what we promise!" is not a tag line that we invented, it is actually how clients describe us.
S. No.
Description of Service
Amount (Rs)
1
(3 Nos) X Digital Certificate Signature (Rs 847 x 3)
Rs 2,541
2
PROFESSIONAL FEES:-->
Private Limited Company Registration:

Package Includes: (Certificate of Incorporation, MOA & AOA, 3 x Digital Signature Certificate, 2 x DIN Approval, PAN & TAN, ESI & PF Registration, Current Account Opening, GST Registration, GST Billing Software, MSME Registration)
Rs 1,200
(Limited Period Offer)
3
GST @ 18% (Point 1 & 2) i.e. Rs 3,741
Rs 673
Total Fee Excluding Govt. Fees -->
Rs 4,414
Govt Fees (ROC eFiling Fee & Stamp Duty)
(It depends on the State in which registered office will be situated)
Refer our Guide / Business advisor to check the exact amount of Government Fees
Post Incorporation Compliance's
Private Limited Company has to comply all the rules frames under Company's Act, 2013
All companies registered in India are required to maintain compliance under various regulations. Failure to maintain compliance can lead to penalty or disqualification of the directors.
We can help you with accounting and maintaining of statutory compliances for the company at a very affordable price point.
Some of the important characteristics of a Private Limited is provided in the blog link in right.
Please note that additional forms will also be applicable as per government notification. Other than these mandatory compliances, there are others that need to be done depending on the company's timeline.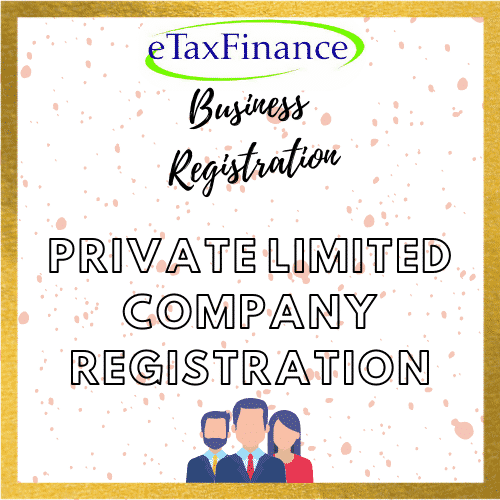 Bank Account Opening Process
Open a Current account in the name of company for all your financial transactions
All new companies incorporated through SPICe+ (w.e.f 23rd February 2020) would also be mandatorily required to apply for opening the company's Bank account through the AGILE-PRO-S linked web form.
Presently, State Bank of India, Punjab National Bank, HDFC, Kotak, Bank of Baroda, UBI, IndusInd, Axis and ICICI Bank have been integrated with AGILE-PRO-S for opening a Bank account.
Once the company is incorporated at MCA portal and COI and PAN has been successfully generated, required information will be forwarded to respective bank for processing of form. Once the data is successfully validated by bank, account number would be generated and communicated by the respective bank to newly incorporated company's/Authorized signatory's email id.
Frequently Asked Questions
FAQ Resolution to Common Queries for your doubts related to Company Registration